Marking an item as "withdrawn" and collection weeding.
Marking an item as "Withdrawn"
1 Access the item record
2. In the "Withdrawn status" field, select "Withdrawn"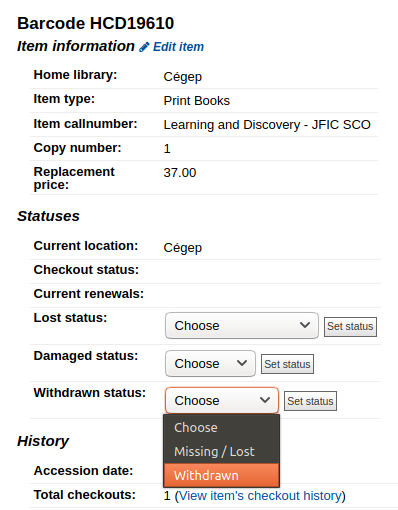 3 Click on "Set status" to save.
Items with withdrawn status are still displayed on the catalog, but you may hide them from the public.
To remove these items from the catalog, you will have to delete them permanently.
We do suggest to delete item periodically (not instantly after the withdrawal). This time period before the permanent deletion may save you from extra work (e.g. cataloguing a replacement copy).
Collection weeding
Generating a "Withdrawn items" list
The report module is a powerful tool. With the appropriate command lines, you can quickly identify all items marked as withdrawn.

To design the report, go to Reports module.
Please contact inLibro if you need help with reports.
After the report creation, run the report to generate the list.
1 Go to Reports > "Use saved"
2 Run the "Withdrawn items" report
3 Export the data
Small batch
Copy the barcode list
Larger batch
Export the report content in a (.csv) file —> click on "Download", select "Semicolon separated text (.csv)" and save the file on your computer.

Important: The (.csv) file should only contain barcodes (1 per line). If your file includes more information, delete all unnecessary fields, empty spaces, titles and column names.
Please refer to the article
How to open a (.csv) file
for more information about (.csv) file.
Permanent item deletions
4 Go to tools > Batch item deletion
5 Import your data
Small batch
Paste your barcodes in the text box ( 1 barcode per line – without spaces)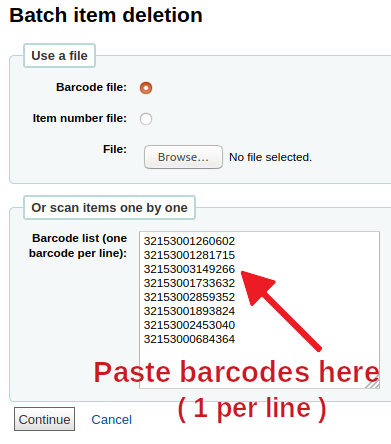 Larger batch
Upload the file

Select "barcode file" option, then click on "Browse" to upload (.csv) file.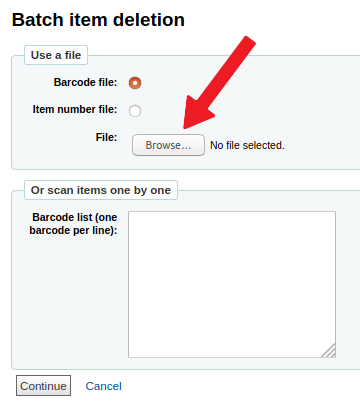 6 Click on "Continue"
7 Verify and select items to delete
Important : Once you have uploaded the list, verify each item and uncheck items you do not want to delete (e.g. items on order). This simple step can avoid unnecessary re-cataloging.
After this verification:
Important : the next step is permanent and irreversible. We do suggest to save a backup copy before the deletion.

If you do experience system problem, this copy will ease the data recovery.
InLibro is offering 2 plugins specialized in data recovery:
• Data dumper (to extract a backup copy of your database)
or
• UndeleteRecords (to recover records deleted by mistake)

Please refer to https://inlibro.com/en/koha-plugins/
8 (Optional) Check the box "Delete records if no items remain"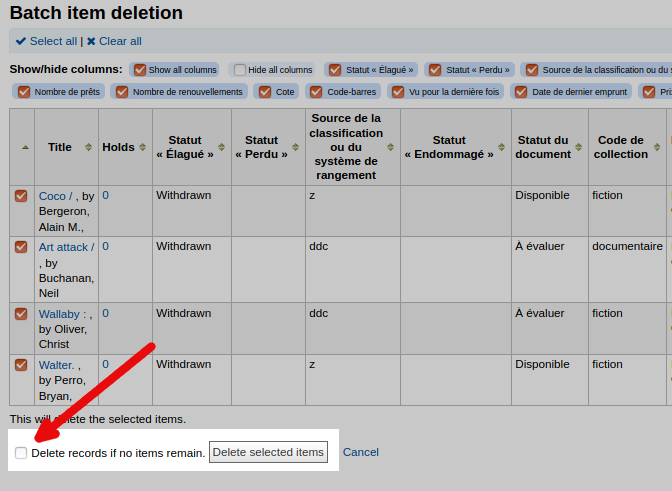 10 Click on "Delete selected items" to launch the permanent deletion.
We do recommend to perform a batch item deletion periodically (e.g. 1 or 2 times a year).
See also: