Offline circulation tool (Firefox add-ons) setup
Koha Offline Circulation Tool (Firefox add-on) allows you to record your circulation transactions during an Internet outage.

When the Internet is back, you can upload your transactions to Koha in 2 different ways:

1) Manual transfer with a (.koc) file
or
2) Automatic transfer mode


Install the Firefox Add-ons


FR :
https://addons.mozilla.org/fr/firefox/addon/koct/
EN :
https://addons.mozilla.org/en-US/firefox/addon/koct/
1 Click on « + Add to Firefox »
2 Allow the installation, and restart Firefox browser.

A new icon should appear next to the search box.

Tips: Firefox allows you to change the browser layout and move around icons.

To change your Firefox layout, click on the "3 horizontal lines" menu (on top right corner), select " customize…" and move the icon.
3 Click on the new Koha icon to open the Offline page.

This add-on does not work in private browsing mode.
Koha offline circulation tool Add-ons updates mode
1 Click on "settings page"
2 In the "Details tab", choose the updates mode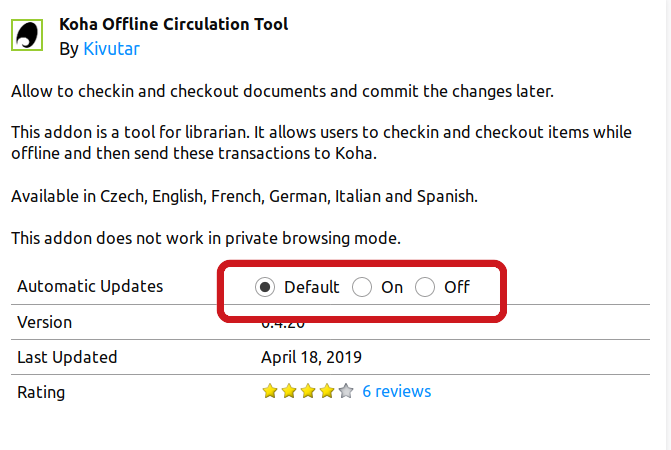 3 Setup the plugin
No settings are required for (.koc) file transfer mode. However, you must fill in this form before using the automatic transfer mode.
To setup the automatic transfer mode:


server : Koha URL (staff interface)
( example: https:bibliotheque-intranet.inlibro.net )

Login and password: ID you would normally use to login in Koha

Branchcode: library branch code

To find out your branchcode, go in Koha > Administration > Library

Commit Type
We do not recommend the « Apply directly to Koha » option since all transactions are transferred directly to Koha without the chance to review them.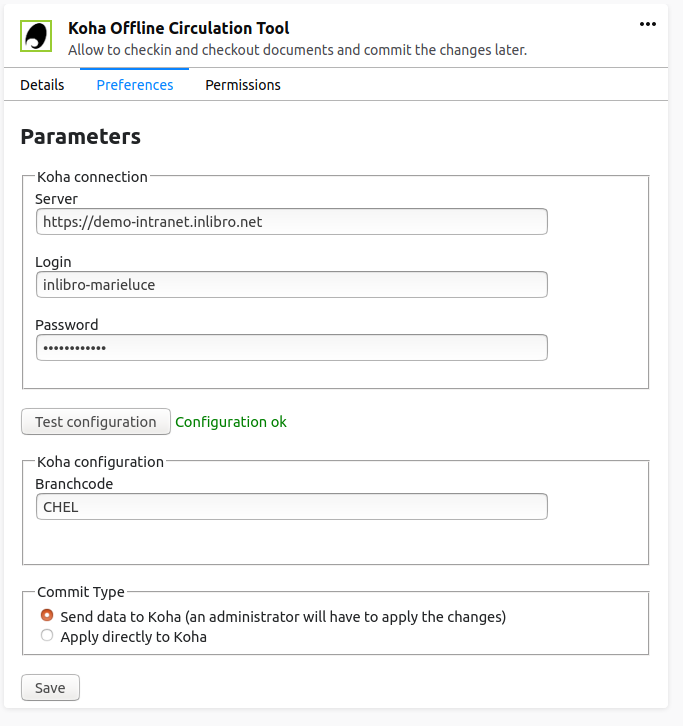 4 Click on "Save"
5 Restart Firefox
See also